DAPP UK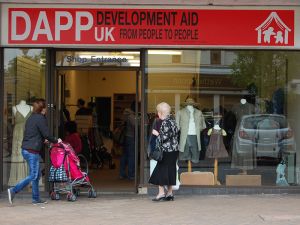 In October 2014 an agreement was made with DAPP UK in which a payment is made to Planet Aid UK for the service of collecting and sorting the clothes from the charity's own clothing banks on their behalf. In close co-operation with the management of Planet Aid UK's sorting centre DAPP UK is secured the best 25% for their shops. The lower qualities are sold for the best price to dealers. Over the last years the sorting has improved so DAPP UK get the most out of their collected clothes.
To find out more about DAPP UK please visit their webite by clicking HERE
@dapp.uk on Instagram
Over the years the charity has supported:
The education of orphans at the Children's Town in Zambia (implemented by DAPP Zambia)
The education of slum children at the Academy for Working Children in India (implemented by Humana People to People India)
Education in Malawi by supplying donated books to DAPP Malawi's educational institutions.
Every week DAPP UK's shops will have over 4,000 new items for their customers to browse through.