Sorting and sale of clothes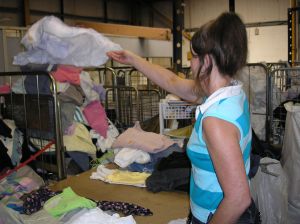 Planet Aid UK's sorting centre is based in Corby, Northamptonshire and is a modern 1000m2 warehouse which also houses our Head Office. It is to here that most of the collected clothes are delivered every day having been collected by our own long term, experienced drivers.
Our sorters have been sorting clothes for over 16 years. A skilled sorter has to be aware of fashion and brand names as well as being able to identify the difference between good quality and poor quality items. It is a job which concentration and efficiency are a necessity in order to keep the sorting costs down and to get the most out of every item.
Since October 2014 Planet Aid UK has agreed to service the registered charity DAPP UK's clothing banks, and to sort their clothes. The clothes donated to the DAPP UK banks are collected by Planet Aid UK's drivers and brought to the sorting centre in Corby where they are sorted.
The top quality clothes (approximately 20%) are sold in DAPP UK's charity shops in Northampton, Leicester and Rugby.
The rest of the clothes are sold to traders meaning that, in this way, DAPP UK gets the most out of all the clothes collected.
A close association between Planet Aid UK's sorting and DAPP UK's shop staff makes it possible to supply good quality, fashionable clothes to all the DAPP UK shops. Through successful and efficient sorting it is possible to get the right balance, so that as many of the collected clothes as possible are sold in the shops ensuring that they maintain a fashionable and modern image. Each week Planet Aid UK supplies over 4,000 items to the DAPP UK shops.