Donate your clothes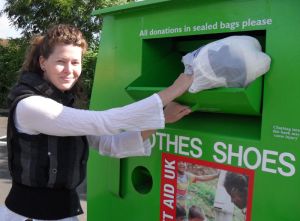 You can find our clothes banks at supermarket car parks where the public are used to recycling their bottles, paper and clothes, but unlike many other clothes collectors Planet Aid UK also installs clothing banks at 'smaller' sites, close to local post offices, pubs, schools and shopping arcades.
In that way the local community has easy access to their recycling banks, thereby encouraging them to participate and also to add to the council's efforts to achieve their recycling targets. Recycling has to be part of daily life.
If you would like to know the location of your nearest clothes bank please contact us.
Here you can view a short video about what you can donate to Planet Aid UK