A Message from Our Project Leader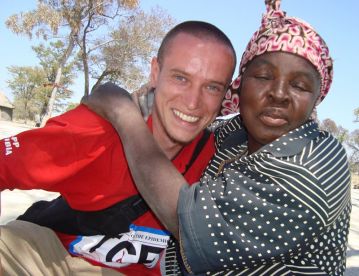 "A stranger is a friend you just don't know". That was what my mother told me when I was a little girl and, it is with this in mind, that I have always lived my life ever since. It is confirmed over and over again when we do our promotional work in Planet Aid and 99% of the people we approach are friendly people, who want to help. Whether it is the English pub owner, or the Pakistani owner of the corner shop, or the Indian lady working in the dry cleaners, everywhere you meet good people who care about their fellow man.
It is a precious gift that I was given when I was a child. Simply that you can trust other people that you can ask for help and that most people in this world want to help each other.This is very apparent when you meet people of other nationalities, both here in the UK and even more so when you visit our projects in Africa. The warm-hearted hospitality of the people, giving from the little they have, wanting to share.
When our volunteers come back from Africa after 6 months work in one of Humana People to People's projects, the warm friendship they have created with the local people is always one of the experiences they highlight.
This leads me to recommend a series of television programmes on BBC4 about the refugee camps in Jordan: 'Our Desert Home'. A very strong message about the Syrian refugees and how they care for each other under difficult circumstances.
A whole city of 80,000 people has been created. You can see how they help each other, how their skills are used to create a reasonable life in the camp. You follow a sports competition between young boys, created by a sports teacher. You see their joy and excitement when they win medals. You follow the doctors working 24/7 helping 600 patients a day under primitive conditions. You are with a mother giving birth to twins following her labour and her happiness for her two small children.
I would like to thank the people who made this important program. One of them, 'These are just good ordinary people helping each other in their daily lives while their country is in complete chaos having been destroyed by war'. This programme is so far removed from the everyday news where you are bombarded with reports about terrorism, about killing innocent people in France and Germany, about ISIS, creating hate and fear. It is good that we get a picture of the suffering of the millions of people who have to leave their homes, having lost love ones and it helps us to understand how they try to get on with their lives.
Keep this important message in mind:
'A stranger is a friend you still don't know'.