Award For Rutendo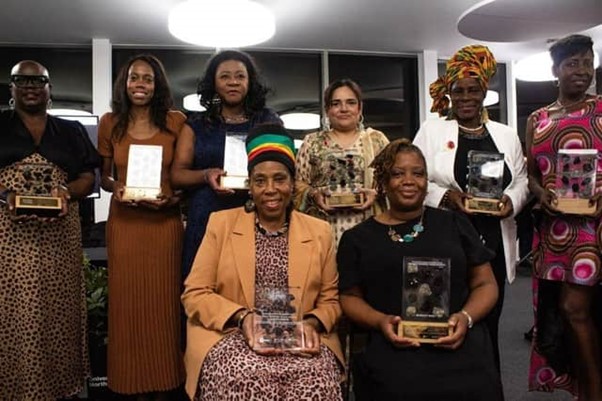 Planet Aid UK's leadership was invited to the awards held on the 19th of October- part of the third annual 'Black in the Ivory' conference from the University of Northampton's Global Ethnic Majority (GEM) staff network. The theme this year was 'Phenomenal Women of Colour'. Ten women were awarded for their work in the local community of Northamptonshire, and Rutendo Nyatsine – Planet Aid UK's Promotion Manager was one of them.
It was a very enjoyable evening, starting with an important speech about the achievement and bravery of black women not only in UK but in many countries of the world. We enjoyed speeches from all the 10 women talking about their local work which has had significant impact of the people of Northamptonshire. The room was beautifully decorated and delicious food was served to all the guests.
Our History with Rutendo:
When Rutendo was forced to leave her home country she settled down in Northampton, where her sister worked as a nurse at Kettering Hospital.
Soon after Rutendo arrived to UK she founded: 'The Zim-women of Northamptonshire.' with the purpose of helping the many black emigrants who arrived often with nothing or very little belongings.
She, herself has experienced how difficult it is to start in a country where traditions and culture is so different from your home country. One of her engagements over the years has been to help the children of the emigrant families, and that was where we met Rutendo. She told us about the children and especially the boys, who came in conflict with the law. She did counselling and worked closely with the local police.
Planet Aid UK had at that time (about 14 years ago) a program where we trained young people from Europe to go as volunteers to one of Humana People to People's project (of which Planet Aid UK is member) in Africa.
We told Rutendo:' We want the children to visit us. At that time, we lived near Birmingham Airport in 'The Parks' where we had a beautiful collection of sculptures all made by famous Zimbabwean artists. These children should be proud of their country and their culture.
Three years in a row we held weekend camps with the children connected to 'The Zim-women of Northamptonshire'
. An amazing experience for the children (30 to 50 children participated) and for our students.
Rutendo has several times sad to us: It is important the children learn about our values and our traditions. That was what we all experienced in these week-ends: The children's care and respect for each other, their songs, their music and dance and their storytelling. We will never forget.
In the spring this year Planet Aid UK employed Rutendo as Promotion Manager.
With her passion for our work, her positive attitude to all people she is together with it is a joy to work together with Rutendo.