Oskars and Arianna take over the management of our West Yorkshire collection area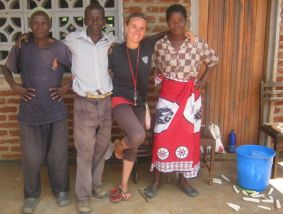 Arianna has been employed as a promotor for Planet Aid UK for just over one year. She has done a very good and thorough job expanding our collection by agreeing over 130 collection sites.
Arianna spent 7 months in Malawi working in one of DAPP Malawi's teacher training programmes and primary schools. In the teacher training programme the students build up their commitment, knowledge, skills and experiences in a carefully organised program. The students carry out extensive teaching practices in primary schools in the local communities close to the teacher training college.
Arianna was known as a talented promotor in both Denmark and Norway where she worked for more than two years after she returned from Africa. We were very happy to employ her in April 2015.
Oskars returned from India in September 2015, where he had spent 6 month as a volunteer working in Humana People to People India's educational program 'Academy for Working Children' in Jaipur. With six educational centres the program aims to provide basic education to street and working children, who have either never gone to school or have dropped out. In 2015 more than 1,300 children had received education in Academy for Working Children. For a number of years this project has been supported by Planet Aid UK's charity partner Development Aid from People to People UK.
Planet Aid UK has provided a collection service in West Yorkshire since we started our work in 1998. For many years we had a small depot at the former Wales Wood Colliery. Many sites have been closed and many have opened, and over the years many people have donated tonnes of clothes to us.
In April Arianna and Oskars offered to move to Sheffield. For a number of years we have been without a good leadership team in the area who could secure a good service and expand our collection. Today we have almost 300 sites in the area.
Both Oskars and Arianna have shown commitment and have taken full responsibility for the collection in the north, and we have now asked them to be the management team in West Yorkshire, doing the collection service, expanding the number of collection sites and doing all the planning and reporting to Planet Aid UK's Head Office in Corby.