Climate Change – What do we do?
We can't avoid the facts that Climate Change is part of our lives.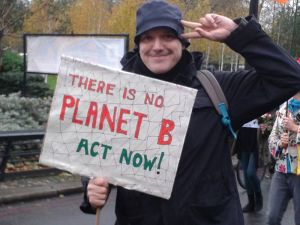 'December 2015- the wettest month ever recorded'
'2015 the hottest year ever recorded'
'2016 globally the hottest year ever'
The news goes on and on, and we see it for ourselves with weather patterns we have not experienced before, flooding and heatwaves.
You sometimes think: 'Can we avoid the catastrophe? A world where we can't control Climate Change, where our children and grandchildren will have completely different circumstances to live in from today.'
It was one of the most important and positive decisions made in 2015: The decision made at The Climate Change Conference in Paris where Governments signalled an end to the fossil fuel era, committing for the first time to a universal agreement to cut greenhouse gas emissions and to avoid the most dangerous effects of climate change.
Governments and business leaders said the agreement, which set a new goal to reach net zero emissions in the second half of the century, sent a powerful signal to global markets, hastening the transition away from fossil fuels and to a clean energy economy. Rich countries agreed to raise $100bn (£66bn) a year by 2020 to help poor countries transform their economies.
Over the years Humana People to People's different member organisations have implemented many programmes which address the problem.
In 2014 we decided to plant 14 million trees, and all over the world where Humana People to People are implementing programs, farmers, teachers, school children and communities were involved in the tree planting campaign. Planet Aid UK did a local tree planting action in Corby in the beginning of 2015 where over 50 people – from all walk of life- participated.
At the end of 2013 Planet Aid UK raised £5,000 to be used for tree planting in Zimbabwe and in 2014 we visited many schools in our local area telling the children about the importance of planting threes.
Many of Humana People to People's schools and teacher training colleges have invested in solar panels, so the students now have clean energy.
This is just to mention some of the many attempts made by our organisation. Learn more about what we do by visiting www.humana.org